Portable / Folding security stopper and Gate (Block Barriers)
Accordion Barrier Custom manufacturing portable sliding door and folding security gate for patio doors, garage doors, industrial and commercial use.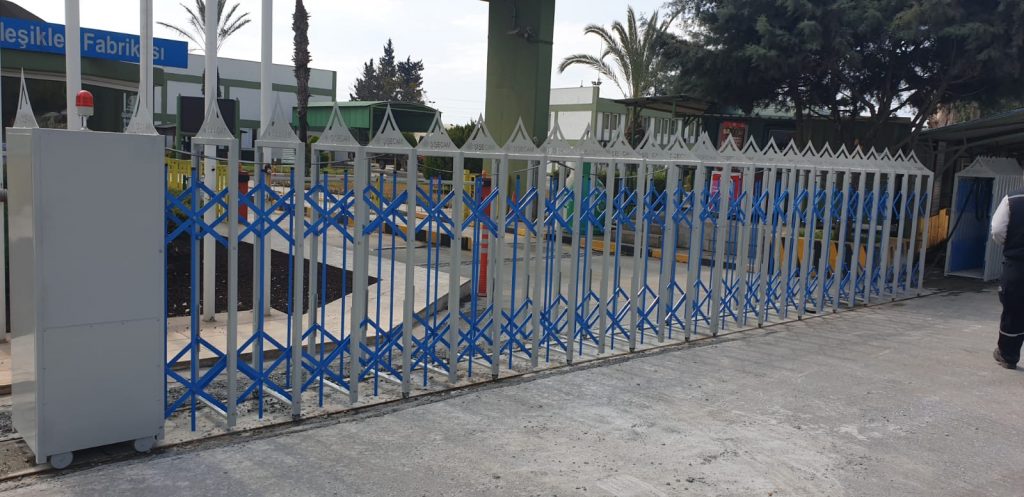 One-piece side scissor doors open wide and up to 1/10
Horizontal and vertical opening rates of 1/8 – 1/10
Side opening sliding accordion door is manufactured as Galvanized and Chrome Steel.
Resistant to plastic surface Application on accordion door wheels or chrome ground shaft
Accordion doors can be applied with or without motor
Thanks to the motorized accordion door software, it is integrated into all automation systems.
Magnetic lock system is used for motorized or non-motorized doors
Quality rivet and long life thanks to heavy U-channel steel riveted back
Accordion Barrier Doors are manufactured in two different categories as Indoor and Outdoor.
is used in every area where the area is to be covered is long and narrow gathering areas
Side Folding Accordion Barrier Gates Use Of
Factory entrance doors – Warehouse entrance doors – In order to prevent the passage of vehicles and people in the streets and streets, folding door system is used in every area where the gathering area is narrow and the area to be closed is wide
Folding Accordion doors are made of high quality steel to ensure safety. Accordion doors, elevator doors, corridors, entrances and allow light and air to circulate through the gate. Robust vertical door scissor rails are easy to use and are fully assembled to the ground to ease opening. All accordion door models vary in size and opening rates according to durability. Fully equipped with Teflon bearing system assembled '. Comes with bearing, washers and wheels. Locking systems are checked for suitability to the ground and Electro Magnetic door lock is used for manual folding doors.
Side Opening Motorized Folding Barrier Gate
FOR NARROW PASSAGES, OPENING THE DOOR TO THE REAR SIDE IS THE SYSTEMS THAT MAKE EXCELLENT RESULTS AT THE POSSIBLE POINTS.
NO risk of overturning or collapse because of operating on a double rail
INCREASING HEIGHT OF GATE ACCORDING TO HIGH SECURITY REGULATIONS, SUSPECTED PERSONS CANNOT JUMP OVER THE DOOR AND ENTER.
MOTOR OPTIONS ALLOW YOU OPERATE AT THE REQUESTED AND ADJUSTABLE SPEED.
PORTABLE. FOLDING GATE IS A MOBILE SYSTEM.
CAN BE INSTALLED AND SET FOR USE SHORTLY AND EASY AT NEEDED POINT AND ENTRANCE
KAPI ÜZERİNDEN ELEKTRİK AKSAMI TAŞIDIĞINDAN KAPI HAREKETLİ NOKTALARINDA FLAŞÖR LAMBA TAŞIRLAR . BU SİSTEM  GÖRÜLMEYİ KOLAYLAŞTIRIR.
THANKS TO THE BATTERY KIT AND SOLAR ENERGY PANEL THAT ALLOWS WORK WITHOUT ELECTRIC SUPPLY.
DOOR HAS AND CARRIES ELECTRICAL INSULATION WITH LAMP BEARINGS. THIS MAKES ILUMINATION AND VISUALIZATION EASY.
Portable block barrier- Security stopper- Folding gate- Securitiy gate- Accordion doors and gates- Gate barriers