TIE-STALL BARNS BENEFITS
Tie-stall barns have many advantages when it comes to cow comfort. This type of herd management makes possible a pro-active, individualized approach to each animal and its welfare. It results in faster response time to an animal's needs and less reliance on medical treatments such as antibiotics.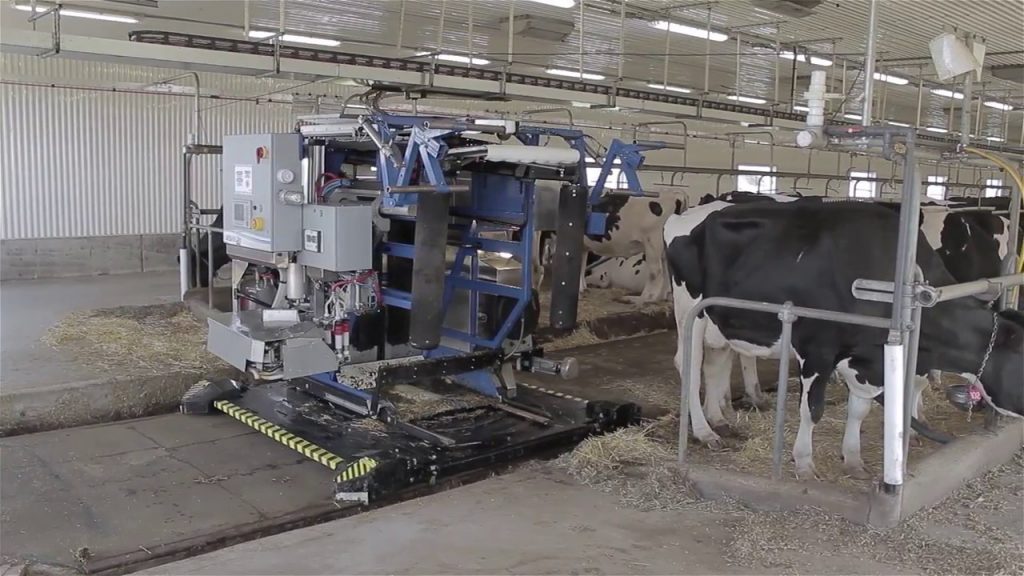 Individualized follow-up: A dairy farmer can determine much sooner when a specific cow's eating and behavior changes. Which indicating health problems or discomfort. This results in a quick response to the animal's needs.
Rapid assessment of excrement: Visual assessment of each cow's excrement makes possible rapid and precise evaluation of an animal's overall health. This results in a quick response to the animal's needs.
Feeding improvements: Each cow has easy access to water and food without obstruction from competing animals, a key element of cow welfare.
No competition: Injuries caused by the competitive behavior of dominant cows are eliminated.
Hoof health: Individual maintenance of each cow's stall helps reduce to a minimum health problem such as foot rot without using chemicals (foot bath).
Superior sanitary conditions: Each animal is provided with a comfortable stall where drier bedding provides superior sanitary conditions. Reductions in barn humidity also greatly reduce cross-contamination risks between animals.
Tie-Stall Barns
In tie stall barns cows are fed and milked in the barn. There is no walking to other buildings, as milk barn is inside the barn of cows. Each cow has its own tie stall, where stand, eat, lying down, ruminate and the animal is secured by a rope or chain. Cows do not disturb the others as they are separated by metal bars. The feed is placed in front of each cow and usually two cows use one watering place, that watering system is operated by the animal.
Pipelines are built is the barn, the pipeline of milking and vacuum is placed on the top of the stalls and running perpendicular to the tie stalls. The milk is transported in a closed system directly to the cooling machine, where it is cooled until selling. Usually trucks transport milk from farm daily to the milk industry.
The length of stall varies in different systems. In the short stall, the faeces and urine in deposited out of the stall and removed by scraping (usually mechanical). This system requires the less amount of bedding material.
This type of stalls is built in small or medium farms, usually not more than 70-90 cows are housed in tie stall barns.
Advantages of tie-stall barns
Easier to monitor:
The feed consumption of cows. Animals are not changing place so they are fed as individuals. The probability of the fact that the genetic capacity of a cow can be expressed in performance is higher compared to free stall barn, where a more or less diverse group of cows are handled as one "feeding block".
The individual itself. The animal keepers see each cow more times, compared to other systems. It means that man controls cow not only during milking (three of four times per day), but at any other work in the barn. The earlier discovery of any problem means less loss of production, less occurrence of severe disease, veterinary cost decreases.
The area for a cow is less compared to free stall barns plus milking parlour. It means less area to manage and clean.
tie-stall dividers and dimensions
The size of tie stalls depends on the size of cows, most of the design suggestions refers to the weight of animals. If the weight of is 400 kg, 500 kg, 600 kg, 700 kg, 800 kg the optimal width of the stall is 1050 mm, 1150 mm, 1250 mm, 1350 mm respectively.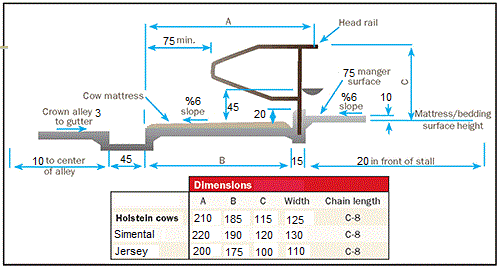 A slight slope from the front of animals ensures the drainage and cows like to rest when the front is on higher place than the rear part. The optimal slope is two to three percent, a higher slope does not retain the bedding material and it moves to the rear and accumulates.
Bedding in
A thick layer is bedding straw can prevent injuries and comfortable for the cow.
If straw or other materials such as sawdust, sand, leaves, paper-based bedding are expensive, not available or some may cause problems with manure management or the increased need for human labour is expensive, other solutions should be applied.
Sand, as a non-organic bedding is a proper solution, but there are some factors, which limit the widespread of its application. Manure with sand is a difficult material to be properly handled and sand bed is labour intensive. The main advantage sand contains less bacteria, occurrence of mastitis is less frequent and does not harm the udder.
Better to use Rubber mats instead of bedding mattress, comfortable type of Rubber mats Injuries are minimal and comfortable. A good quality mats are advised by several experts.
If you will use the mattress should be strong and durable, as it has to resist the movement and pressure of hooves. The thickness of cover of theses mattresses is 3-5 millimeters; it may provide good insulation when laid on concrete floor.
Mats are also widely used and made of synthetic rubber. It is a long-lasting material and also should be covered with a thin layer bedding.